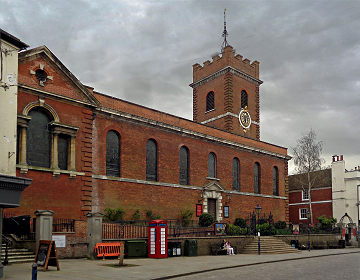 The Ghost Tour Of Guildford was founded in 2001 and runs on Friday nights from Good Friday to the end of November (including October 31st) in Guildford town centre (any week it is not running will be announced above). Tours begin in Guildford High Street on the pavement by the central steps outside Holy Trinity Church (which is on the right near the top of the street a short way beyond Sainsburys) at 8:00pm. The tour lasts 1 ¾ hours and covers around 20 haunted and mysterious sites in close proximity of each other in our ancient town. It passes through Guildford High Street, North Street, Tunsgate, The Castle Grounds and Quarry Street and finishes at The Angel Hotel, a few minutes further down the street from the starting point. There is no need to book – all you need to do is turn up. It runs regardless of the weather and can be wheelchair accessible. Dogs are more than welcome.
Discover why Holy Trinity Church is cursed, the identity of the mysterious lady in grey seen around Tunsgate, where Guildford's criminals were executed, where a phantom dog has been seen during one of the tours and just how many ghosts there are inside Guildford's most haunted building, The King's Head pub. If you are ready to laugh until you scream we invite you to join us. It's a horrible way to spend an evening.
Please note that The Ghost Tour Of Guildford is a professional independent business and should not be confused with any other guided tour in town. From 2022, costs are £10 for adults and £5 for under 16s. Although all the family are welcome (and often do) attend, it is primarily recommended for those aged 8 and over.
The walk is fairly easy to negotiate, although the High Street can be a little steep. Besides the regular Friday night walks, private bookings can also be arranged for other times and days. Normal costs apply (minimum fee of £75). If you are coming to Guildford on holiday or wish to discover its seedy and paranormal side, then you cannot afford to miss The Ghost Tour Of Guildford. It is an experience unlike any other you will find in the town and is, by reputation, one of the most entertaining and educational ghost walks around. It's also a bit silly (some might say unnecessary).